Supplies that I used to make this:
1. An old kitchen drawer from my mother-in-laws remodel
2. Dollar Tree crows and skeleton
3. Papers and craft supplies (Old Halloween decor torn apart :)
4. Martha Stewart Glitter (everything looks better in glitter)
5. $4 clock from Target
6. I put my girls in black outfits took their pictures to decorate.
7. A couple of friends to come over and make one with me to keep me inspired.
I love Halloween, I love when the air is crisp, the smells of Pumpkin and Apple cider. How kids get to dress up into something else for the day. I am getting over excited to start working on Halloween Decorations.
Check out
Firefliesandjellybeans
Blog: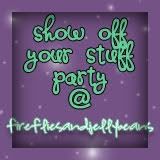 There are other really cute Ideas for this fun season....